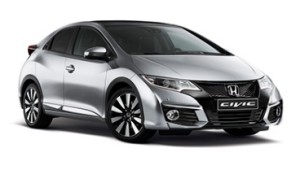 The 2016 Honda Civic will certainly put a spring in your step on a Monday morning! A powerful drive with great assets and a lightweight body, it doesn't mess about. Competitors include the Corolla, Ford Focus and Mazda3, but we don't think these three come close in terms of beauty (…and a bit of beast, too!)
Design and Equipment
The Civic has a well-insulated body with impressive aesthetical style; not forgetting those trademark LED taillights.
Options include climate control, parking assist, smart keyless entry and start and Apple Carplay/Android Auto; which has a controller by the steering wheel so you don't have to touch the screen while driving.
Performance and Handling
The 2016 Civic comes with a choice of engines including the nippy 1.8 i-VTEC and the economical 1.6 i-DTEC diesel. The petrol engine is available with automatic and manual transmission.
It feels almost weightless to drive compared to other Hondas, with regimented steering.
Why hire a Honda Civic from Lowestoft Car Hire?
A lightweight car with top steering, a few gadgets and a nippy engine? Sounds like a weekend car to us.
Click here to rent the new Honda Civic or a similar car from Lowestoft Car Hire