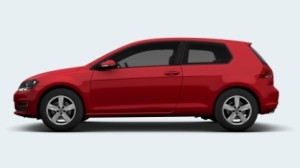 The mark VII VW golf is a spacious and fun to drive hatchback with gadgets. The kids will have enough room to swing a cat in the back (not literally) and mum & dad are welcome to all the music and air con they need. What's not to love?
Popular models include the TSI and GTI hatchback, which live up to expectations of being versatile in everyday use. Rivals include the Audi A3 and Skoda Octavia.
Design and Equipment
As always with Golf, the technology beneath the body is up to scratch. Expect an automatic braking system, and optional lane departure/blind spot control amongst other updated safety features.
The new 2016 model comes with a 6.5-inch touchscreen, DAB radio, smartphone integration and air conditioning as part of an impressive list of standard features. There is also plenty of rear legroom, with ample space in the back for taller passengers.
It's a hatchback, so there's also lots of space in the back for luggage, shopping bags and more – the rear seats can be folded down where necessary to improve the already large boot's capacity.
Performance and Handling
The Golf TSI comes with a range of engines including the highly economical 110PS 1.6 litre TDi and the 150PS 1.4 litre petrol turbo. Most hire models come with 6-speed manual transmission.
For longer term customers, the feisty GTI is occasionally available to hire. This comes with a 220PS 2.0 litre turbocharged engine, and is a firm favourite with those that have tried one.
Why hire a Volkswagen Golf from Lowestoft Car Hire?
The Golf is a Jack-of-all-trades when it comes to being a family car, making it an easy choice if you've got children of any age. Thanks to its high level of comfort, the Golf loves long journeys, and we are sure you'll return that love once you are in the driving seat.
Click here to rent the Golf or a similar car from Lowestoft Car Hire
If you would like to talk to us about a longer term hire click here