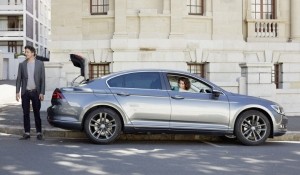 The eighth generation of the Passat – 2015 car of the year- comes in a variety of models, including the GT, sporty R-line, SE Business and Passat S saloon. It is a spacious luxury car that likes to `play it safe`, but this doesn't infringe on it being a good everyday car, in fact, it enforces it.
Low-key exteriors and easy to use functions make the Passat a great choice for customers seeking a comfortable car to get them from A to B in understated style.
The Passat's natural competitors are the Ford Fusion, Honda Accord and Kia Optima.
Design and Equipment
The Passat is simple in design, with chrome or piano black trims and a smiling front grille. It offers a truly massive 1,152 litres of boot space when the height of the boot floor is cleverly dropped to maximise capacity.
VW never skimp on standard features, and the Passat is no exception here. Features include an automatic post-collision braking system, electronic stability control, a start stop system with regenerative braking, USB portals and Bluetooth connectivity.
Performance and Handling
The Passat comes with a range of engines including the BlueMotion 1.6TDi 120PS diesel which boasts fuel consumption of 76.3mpg – truly astonishing for a car of this size!
A choice of 6 speed auto or 6 speed manual gearbox is available.
Why rent a Volkswagen Passat from Lowestoft Car Hire?
With its huge comfortable interior, simple styling and basic features you can appreciate the Passat's lack of arrogance. The Passat is a firm favourite with long distance drivers and basically, it's the kind of car you'd smile at after a hard day's work.
Click here to rent the Passat or a similar car from Lowestoft Car Hire